You have been spotted by Pooh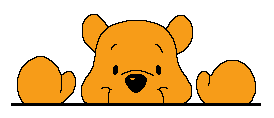 ...as a great friend!
Pooh says:
"Friendship is a special kind of sharing!"
So, share this message with all of your friends,
and let them know how special they really are to you!
Hit Ctrl D, Bookmark this page and send it to your friends!
The url to this page is...
http://PoohBear0328.tripod.com/friend.htm
Sign My Guestbook
View my Guestbook

Some sayings of Pooh and his pals from the Hundred Acre Woods!
"Friends make you smile from ear to ear." -Pooh
"Buddies...that's what Tiggers like best!" -Tigger"
Hey there Buddy Bear!" -Tigger
"Friends are for hugging" -Pooh
"It never hurts to keep looking for sunshine" -Eeyore
"Giggles and grins are good for the heart" -Pooh
Home - Graphics - Animations - Backgrounds - Buttons
Poll - Tara & Pooh - Greeting Card - Links